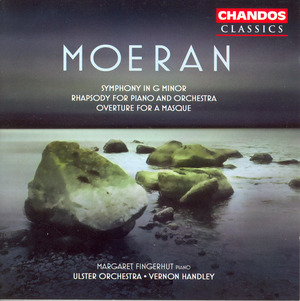 Ernest John  Moeran (1894-1950) was one of the last major English composers to be heavily influenced by English folk-song , there regional folk songs always permeate his music, and  the influence of the nature and landscapes of Norfolk and Ireland are also often evident in his music.
Symphony in G minor (1934–1937) generally regarded as his masterpiece is that the only symphony he ever wrote.
Gathered here are three folk- music-inspired rhapsodies, with the third for piano and orchestra. The themes are sweeping, lyrical and thoroughly British – or more probably  the soul of the Irish.
Moeran's cello concerto which contains more interesting orchestral colors is as good as any other more well-known works (Dvorak, Elgar etc.), it's without question one of the finest 20th-century concertos. The Violin Concerto, sensed in the Irish influence is both a soberly Romantic and homespun musical landscape.
Another facet to the music of Moeran is the madrigal. Moeran was capable of staggering harmonic invention whilst working within the madrigal form  full of contradictions and added-note chords to produce music of outstanding freshness and originality.